By MUJIB MASHALSource&Copyright: nytimes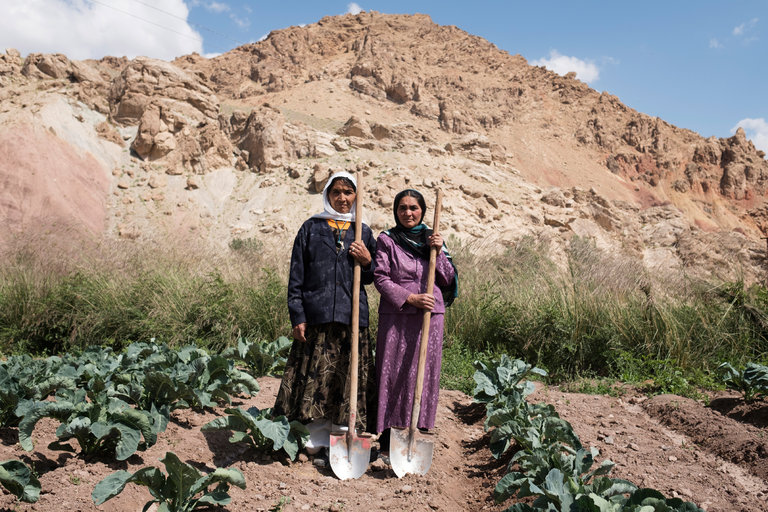 SHIBAR, Afghanistan — In this lush, sleepy farm belt deep in central Afghanistan, women have been the organizing force behind a new wave of small village farm unions.
That seems to have brought some changes. In a reversal of tradition, husbands tend to walk after their wives, trailing a couple of steps behind with rolled-up sleeves and sun-beaten faces. And critically for this impoverished region, the unions have established modest supply chains at the market in the center of Bamian Province. Over just a few years, they have introduced new vegetables to their humble dinner plates.
"In the old days, only potatoes and wheat were grown here," said Zainab Husseini, a part-time high school biology teacher and the full-time farming union leader in the village of Iraq-ulya. "Now we introduced cabbage, cauliflower, tomatoes, beans and other vegetables."
The unions, in updating age-old agricultural traditions, have helped ensure a more reliable and diverse food supply in an often famine-struck region. In the process, the women who run the groups are finding new status and empowerment. They are no longer greeted as the mother of Ahmad or the wife of Mahmoud, but rather "union leader Gul Bahar" or "deputy union leader Reza Gul."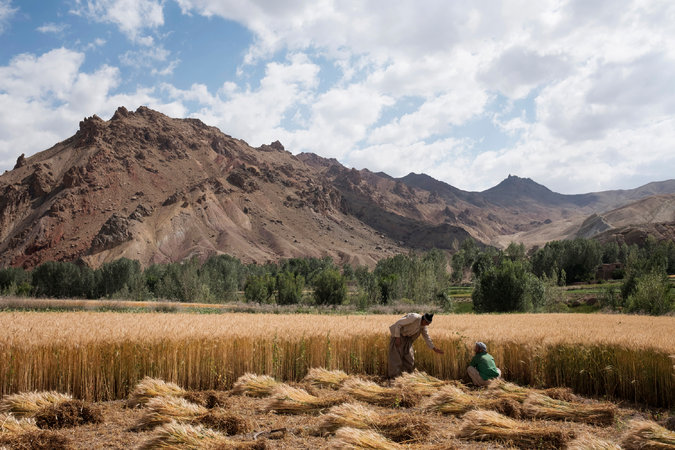 The unions have put the women of Bamian on the front line of a critical struggle: the effort to shape a sustainable Afghan economy, away from dependence on foreign aid. Agriculture must surely be a crucial part of the program if that is to happen.
Close to 40 percent of the population remains below the poverty line of $1.35 a day, Afghan officials say. According to the World Bank, more than 80 percent of the Afghan population — and about 90 percent of the poor — live in rural communities. Agriculture is therefore central not just to countering widespread malnutrition in remote areas, but also to creating sustainable jobs.
Assadullah Zamir, Afghanistan's minister of agriculture, says one area that requires focus is linking farmers to local and national markets, and helping their crops compete with cheap imports by imposing tariffs on, for example, Pakistani vegetables.
Continue reading the main story
RELATED COVERAGE
An Afghan Feud Reignites, Putting Police Families at Odds AUG. 27, 2016
Attack at University in Kabul Shatters a Sense of Freedom AUG. 25, 2016
NOTEBOOK
How Many Guns Did the U.S. Lose Track of in Iraq and Afghanistan? Hundreds of Thousands. AUG. 24, 2016
ISTALIF JOURNAL
War and Pillaging Couldn't Break an Afghan Village, but a Tumbling Economy May AUG. 18, 2016
"The production has increased with programs and training, and the market is not enough; it is not sufficient," Mr. Zamir said.
If Afghanistan can better manage its water resources and establish decent connections between farms and markets — a critical problem in the middle of a war where battles are fought with roadside bombs and security checkpoints — the agriculture sector could create two million to five million sustainable new jobs, or even double the industry's percentage of the country's gross domestic product, according to Afghan officials and economic analysts.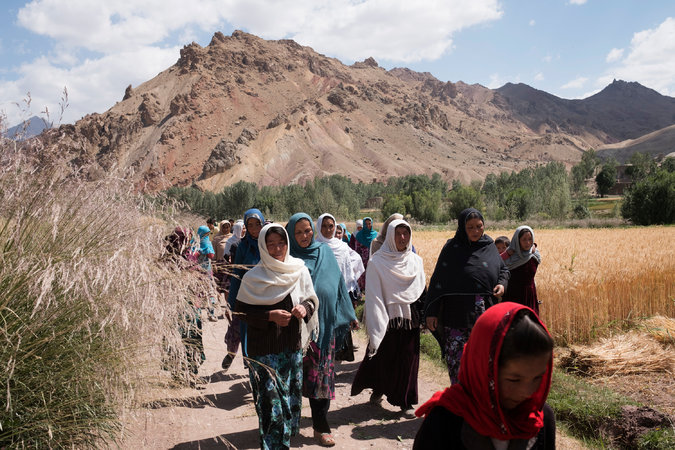 But here in remote Bamian, the terrain itself poses a huge challenge to bringing crops to market.
To get to Shibar, one must drive from the provincial capital of Bamian for about an hour, up a narrow dirt track carved along the mountains. The car slowly winds its way so high along the mountaintop that the clouds hang nearly at arm's length. Then, even more slowly, as the path descends in spiraling bends, the car splashes through sudden creeks of snow melt that run through narrow gorges.
After the Taliban destroyed giant Buddha statues in 2001, Bamian Province became associated mainly with one thing: potatoes. Lots of potatoes. In 2015, Bamian produced nearly 350,000 tons of potatoes, about 60 percent of Afghanistan's total consumption, according to the country's Ministry of Agriculture.
But an overabundance of that single product became a headache for farmers in Shibar, leaving them vulnerable to trader exploitation and struggling to meet their own basic food needs for most of the year.
During harvest season, the potatoes are sold wholesale at dirt-cheap prices: roughly $150 a ton. The farmers have no way of holding on to the potatoes for the winter months, when wholesale prices double. The approximately 500 cold storage facilities built in Bamian with the help of the Afghan government in recent years are simply not enough. (The smaller facilities hold about 15 tons, and the larger community ones about 60 tons.)
That realization forced the Afghan government and its international partners a few years ago to encourage growing new crops, and women like Ms. Husseini took the lead in Shibar.
About five years ago, Ms. Husseini tapped into a local women's rights group she was leading to form small farmers' unions and seek help from the Afghan Ministry of Agriculture. The ministry, which formally recognized the unions in 2013, provided sample plots where farmers could plant improved seeds and learn new techniques from visiting trainers, like using different plant spacing or drip irrigation systems.
"In the old days, the potatoes were this small," Ms. Husseini, the union leader in Iraq-ulya, said, picking up a tiny rock. "When traders would come, they would set aside half of it as not good. Now they want all of it. Each potato weighs one kilogram on average."
There are now eight village farmers' unions in Shibar, each comprising about 30 women. In addition to improving potato production, they have turned to new vegetables and, more recently, even started fruit orchards.
In her small vegetable plot, Najia, the deputy union leader in Iraq-ulya, grew lettuce, cabbage and tomatoes last year. The lettuce brought her about $70, the tomatoes about $80 and the cabbage about $40.
Najia is also in charge of the unions' relations with the market in Bamian's provincial capital, supplying fresh vegetables to six shops that they have established deals with — a very small market, but a start. Every time other union members have crops to sell, they all bring their produce to Najia, who arranges for a vehicle to take them to the market.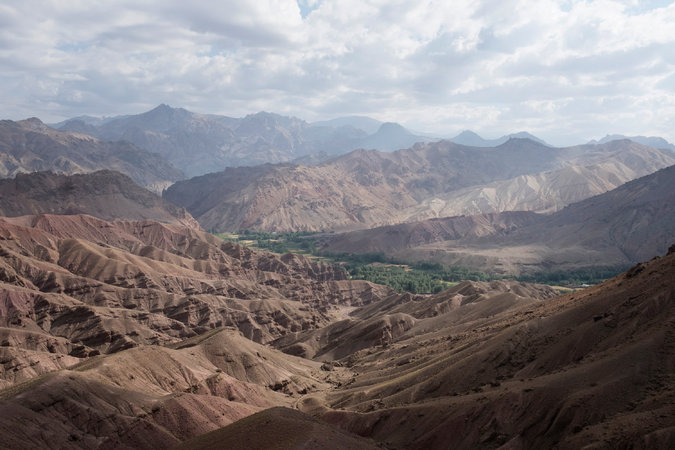 But getting to the market is incredibly costly: Renting a small truck to take the goods there on the bumpy, narrow road out of Shibar costs about $20 — a large sum, considering how little the farmers currently make.
The Afghan government, which often uses nongovernmental organizations as implementing partners, prioritizes the extremely poor for many of its agricultural projects. So even a small grant like giving a family a sheep or a cow, as well as teaching them ways to grow and sell their products, makes a big difference.
"When we go back two years later, for example, each of them have expanded that to at least three or four sheep, or sold some of the sheep to buy a cow," said Dr. Mariam Habib, who ran one of these small-grant programs in Bamian.
With their increased economic activity and their handle of the cash flow, women say they also notice a change in their standing in the community.
"Everyone invites me to parties, and they even consult me on matters now," one gaptoothed older woman, waving her hands, told a visiting delegation of officials recently. She could not be reached for identification afterward.
But in Shibar, as they increase production and earn more, some of the female union leaders bemoan a compromise that is forced on them: The new potatoes taste different.
"The new potatoes are now white in the middle and have a great market, but they don't taste the same," said Asma, the deputy chief of one union. For her own cooking, she grows the old seeds.
In this article