Shakar Dokht Jafari is a medical physics graduate who was inspired to develop a cancer treatment solution having watched her father died from the disease has been awarded a 2016 Women in Innovation Award.
The Government's Innovate UK launched the nationwide competition to challenge the low numbers of women entrepreneurs in the UK, with prize money of £50,000 for each winner.
Shakar Dokht (Shakar) Jafari's company TrueInvivo, which she co-founded with a colleague Shabnam Jamshid,provides more accurate doses of radiation to patients and allows treatment to be targeted at tumours rather than healthy cells.
Seeing her own father die prematurely from cancer in Afghanistan prompted Shakardokht to specialise in the area of dosimetry – the monitoring of radiotherapy exposure.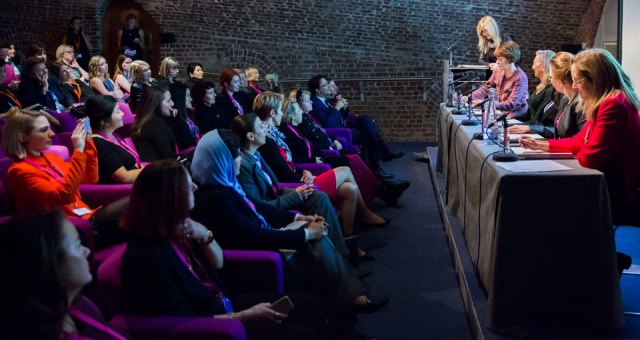 "When I was a child, I used to make necklaces using glass beads to earn a little money," she said. "This gave me the initial idea of using these cheap beads as TL (thermoluminescent) dosimeters."
Putting her theory to the test, Shakar found that not only are glass beads far less expensive than traditional dosimeters, but they also offered a far better performance.
As a result, TrueInvivo has developed small re-useable strings of tiny calibrated silica beads to measure received radiation. The silica beads can be used on the skin but, crucially, as they are safe inert material, they can be used inside the body much closer to the tumour. After treatment, the beads can be scanned by an automated reader to provide accurate measurements of the levels and spread of the received radiation. The patient's treatment can then be adjusted accordingly.
Shakar said: "With our bead arrays and automated readers, radiotherapy teams worldwide will be able to adjust treatments or environments far more quickly, will be able to reduce damage to potentially millions of people and will be able to extend countless more lives."
Each winner is awarded £50,000 and a tailored business support package. They will also receive mentoring from Innovate UK's list of well-known business leaders, including Nicola Mendelsohn, Facebook VP for Europe, the Middle East and Africa, Soraya Jones, Cambridge Wireless founder and former CEO, Claire Williams, Williams F1 Deputy Team Principal.
Shakar Dokht Jafari belongs to the Hazara ethnic group. She was born in Daykondi province, Afghanistan, in 1977. Her father – a teacher – taught lessons in their home because there was no school in their village. When Shakardokht was six, the family left Afghanistan due to intense fighting and insecurity. She attended primary school in Tehran, Iran and, despite family objections, managed to cancel an arranged marriage and complete her high school studies.
In this article