A suicide bombing that killed the relatives of an Ottawa man in Afghanistan highlights the ripple effects of the ongoing persecution of ethnic Hazaras in the war-torn nation.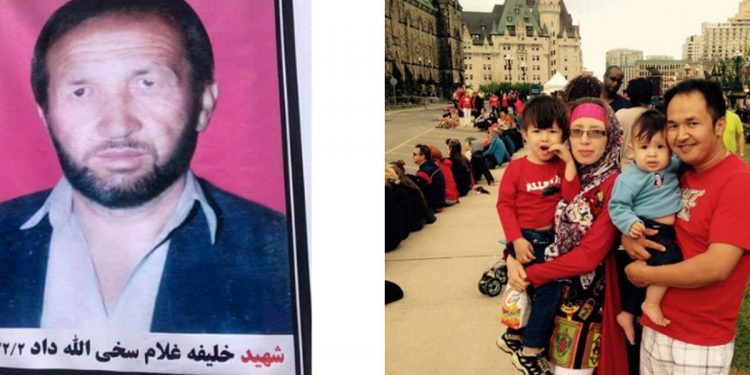 In 1998, at the height of their barbaric rule, the Taliban issued a fatwa, a religious declaration, against the innocent Hazaras of Afghanistan, accusing them of being infidels worthy of being killed wherever and whenever. Killing Hazaras, by the Taliban's interpretation of Islam, would guarantee a front-row seat in paradise.
"Wherever you go, we will catch you. If you go up, we will pull you down by your feet; if you hide below, we will pull you up by your hair," said mullah Manon Niazi, the Taliban governor of Mazar-e-Sharif in a 1998 speech.
The persecuted Hazaras, a Shia Muslim ethnic group in a country with a Sunni Muslim majority, have long been considered non-Muslim infidels.
In the 19th century, ruthless tyrant Abdur Rahman Khan, who labelled Hazaras as kaffirs (infidels), indiscriminately massacred their men and sold women and children into slavery.
In February 1993, savage warlord Abdul Rasul Sayyaf descended upon Kabul's Afshar district and launched an orgy of killing, rape, and looting.
In the '90s, amid the Taliban's full-fledged genocide campaigns, such as the August 1998 massacres in Mazar-e-Sharif, more than 8,000 Hazaras were slaughtered in two days.
Twenty years later—long after the supposed fall of the sadistic Taliban, and under the watchful eyes of Canada and the international community—the persecution of the Hazaras has flourished.
In fact, according to the United Nations Assistance Mission in Afghanistan, with anti-government elements causing more than 1,500 civilian casualties, this year has already seen a six per cent spike compared to last year. That year saw thousands of civilians either killed or wounded, including more than 2,000 children.
Late last month marked the beginning of a long and costly process of voter registration for Afghanistan's next parliamentary elections in October. On April 22, in the district of Dasht-e-Barchi, a Hazara-populated area—despite years of hardship, persecution, and deception—Hazara voters yet again showed up to give democracy one more shot.
Shortly after, a suicide bomber detonated his explosives at the doorway of the voting ID distribution centre. This deadly attack, the most recent of a long stream of its kind aimed at the Hazaras, killed more than 57 innocent civilians, leaving hundreds more severely injured.
Among the victims were several young children on their way to school, whose lifeless bodies can still be seen at the local morgue with their bloodstained pink schoolbags.
Suicide bomber's attack hits close to home for one Ottawa family
However distant these attacks might be from the tranquility of Canada, the effects on Hazara-Canadians is real.
Upon hearing of the slightest attack back home, Hazara-Canadians across this nation brace themselves for the aftershock of the devastation. Families scramble over social media and telephones as they attempt to get news of their loved ones. One family even describes it as a drill for doomsday, or dying over and over.
And though many times folks do get lucky to reach their families and confirm their loved ones are safe, this is sadly not always the case. At least it wasn't for one Ottawa family.
Yasir Mehrzad, who lives in Canada with his wife and two children, received the devastating news that his father, Gulam Sakhi Allahdad, and uncles Haji Muhammad Hussain Allahdad and Wakil Hussain Allahdad, were all three among the many who died in the April 22 attack.
Wakil, a wrestler in his heyday, spent his last years carrying victims to local hospitals on foot and often for miles.
In post-9/11 Afghanistan, the frequent occurrences of such terrible tragedies have been conveniently passed over by the regime and blamed on groups such as Daesh (also known as ISIS and ISIL) and its local counterpart, Islamic State in Khorasan, or the Haqqani Network. But every victim of past atrocities, such as in Dasht-e-Barchi, Mirza-Olang, Dehmazang, and Afshar, can confirm the undeniable truth, that all of this is the doing of one group: the Taliban.
Whatever the colour of the flag, the brands of terrorism remain the same, says Amrullah Saleh. As Afghanistan's former intelligence-division chief, he ought to know.
This is the same Taliban that Canada, the United States, and other NATO allies so valiantly fought to defeat, the same Taliban that swore to eradicate the very genomes of the Hazaras from the pages of history, and the same Taliban that the current regime is openly inviting to come out of their hideouts in Pakistan and return to Afghanistan.
Meanwhile the Taliban's patron, an accused warlord and war criminal, Gulbuddin Hekmatyar, also nicknamed "the butcher of Kabul," continues to facilitate the return of the Taliban by demanding vast amount of land for his soon-to-arrive comrades.
Aside from the obvious problem of this unconstitutional action is that defenceless Hazaras already live in these territories, and have been living there for centuries.
Canada must do more
Prime Minister Justin Trudeau's Liberals were prompt in their condemnation of the April 22 attacks.
Global Affairs Canada posted on its official Twitter feed: "Canada strongly condemns today's suicide attack in #Kabul, #Afghanistan, targeting people outside a voter registration centre. The targeting of people trying to engage in the democratic process is cowardly and abhorrent. Our condolences to the families & friends of the victims."
But when a response message was written to the tweet, to protest action-less, scripted condemnations and to underline that this attack was perpetrated against one specific ethnic group, Global Affairs staffers swiftly deleted the comments.
This action, though not entirely uncommon to many Middle Eastern regimes, should be profoundly disturbing to Canadians.
One can't help but wonder what response this government is planning to proclaim to Hazara-Canadians who have, time and again, repeatedly begged for justice and to hold the Afghan regime accountable for its incredibly dismal human rights record. What will the government of Canada tell Yasir Mehrzad and his family next?
In this article