CHIEF Justice of Pakistan Justice Mian Saqib Nisar has taken suo motu notice of targeted killing of members of the Hazara community in Balochistan and fixed the case for hearing on May 11 in Quetta. He lamented that killers of the Hazara community are holding out rallies in open while members of the community are so scared that they are not approaching the Supreme Court.
Attacks against Hazaras and pathetic attitude of those at the helm of affairs is alarming as carnage of members of the community began way back in 2008. In the face of negative attitude of the authorities, many members of the community reportedly sold out their belongings and migrated to countries like Malaysia, Indonesia, Australia and New Zealand.
Attacks against them increased alarmingly in 2012 and mass murders forced them to refuse to bury the dead bodies and in the bitter cold winter they sat on streets with the coffins of their family members demanding justice and protection. Regrettably, there are no clear reasons why they are being targeted?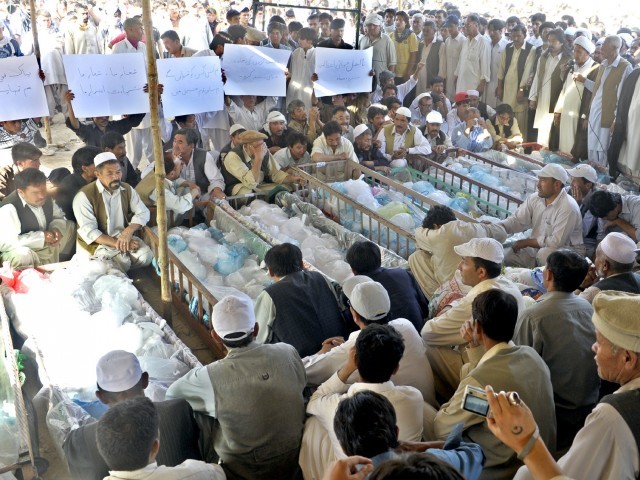 There are debates amongst human rights activists over whether Hazara genocide is ethnic or sectarian. Senior police officials often claim that Hazaras are targeted routinely because they look different, a queer logic indeed. It is said that most Hazaras have Central Asian features and they have been historically targeted in Afghanistan and Pakistan because of their ethnicity but why and what the government is doing to protect them.
After latest attacks and their protests, Interior Minister Ahsan Iqbal and Army Chief General Bajwa rushed to Quetta, held meetings with them, assured to rectify their grievances and in turn they agreed to call of their protest.
We hope that the government, security agencies and the Supreme Court would work in unison to investigate the real causes, how to stop them and bring the culprits to book. Frequent killing of a community that is known to be peaceful is sending wrong message not only to people of Pakistan but also to the entire world.
Source: Pakistan Observer
In this article