A Message from Prof. Younus Toughyan Sakaiea Sunni Hazara leader, regarding the massacre of the Hazara de-miners in Baghlan province by the Taliban on 08 June 2021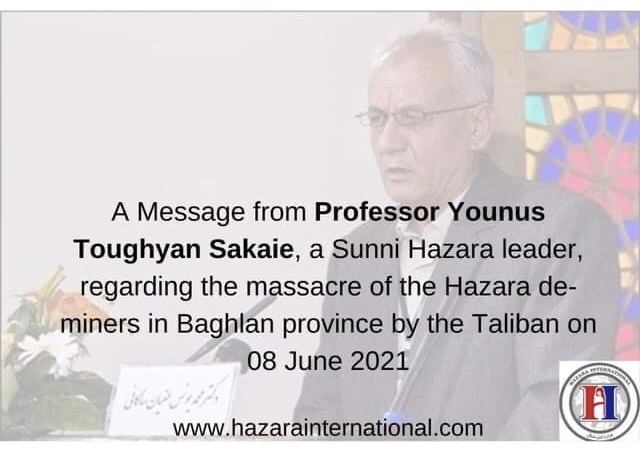 The genocide of the Hazara community continues. In 1998, when the Taliban invaded Northern Afghanistan, they arrested 27 Ismaili Hazara elders from the Nikpai Valley and shot them dead in an area named Robatak in Samangan Province. They did not allow the bodies to be buried. The bodies of the victims were eaten by wild animals and birds. After the fall of the Taliban in 2001, the people collected the remaining bones of the victims and buried them in a mass grave in the Nikpai Valley. Although the Sunni Hazaras repeatedly witnessed the killing of their children, they did not think that all these brutal killings were because of their ethnic identity.
The recent incident in the Sheikh Jalal area of Baghlan showed that the Taliban were committing large-scale and systematic genocide of Hazaras. The Taliban singled out the Hazaras from all other de-miners and carried them to a separate room and fired at them. The horrific incident was reported by BBC and AlJazeera.
We call on the international community and all human rights organizations and institutions to #StopHazaraGenocide.