Four months have passed since the Taliban takeover in Afghanistan, and the crimes committed by this group during its first rule between 1996 and 2001, are still fresh in the collective memory of the country.
On January 7, 2001, the Taliban attacked the Yakaolang district of Bamiyan province and massacred hundreds of Hazara civilians. Many of those who managed to escape and take refuge on the mountains froze to death. On the 8th of January, Taliban members began a house-to-house search across the district. The massacre of Hazaras continued through the 9th, 10th, 11th, and 12th  of January. At least 300 Hazaras were either summerly executed or deliberately killed by the Taliban.
An eyewitness told Amnesty International that 73 women in Kata Khana sought shelter in a mosque, believing the Taliban wouldn't kill them as it's a holy site in Islam. However, members of the Taliban fired two rockets at the mosque, causing it to collapse and letting the women die. Only two women survived. On at least two occasions, the Taliban killed Hazara elders who tried to interact with them, according to Human Rights Watch report.
On January 13, local Hazara elders met with Mullah Abdul Satar, who led the massacre. He agreed to stop the killing if Hezb-e Wahdat Party led by Abdul Karim Khalili stopped fighting. The elders met Khalil, who refused. Failing to forge a truce between the Taliban and Hezb-e Wahdat, the residents of Yakaolang sought refuge in the mountains.
During the month of January, the temperature drops as low as -20 Celsius in Yakaolang District's hills. BBC reported that the Winter cold took as many lives as those taken by the Taliban in their killings. The Taliban also burnt and destroyed locals' houses and properties, leaving them penniless at the mercy of Hazaristan's unforgiving winter.   
Yakaolang massacre was not the group's first massacre against Hazara people. Two years earlier, on August 8, 1998, the Taliban carried out the killings of the Hazara in the northern city of Mazar-e Sharif, where they killed at least 10,000 civilians.
Afghanistan Human Rights Commission has documented that the group singled out Hazara civilians from others citizens of Mazar-e Sharif and summerly executed them. Despite objections from UNESCO and sovereign states like Japan and India, the group also destroyed the statues of Buddha in Bamiyan, a symbol of Hazara cultural heritage.
After 20 years, the group has again assumed control in Afghanistan, and their hostile relationships towards the Hazaras remain unabated.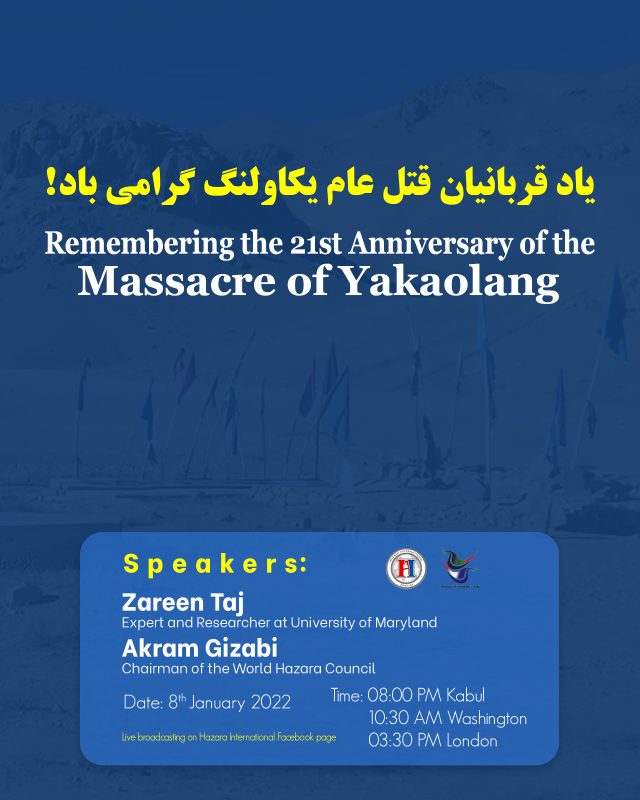 In this article