Yuko Narushima IMMIGRATION CORRESPONDENT | January 18, 2011
AUSTRALIA has the green light to deport thousands of Afghan asylum seekers after reaching a historic agreement with the Afghan government.
The Immigration Minister, Chris Bowen, signed a memorandum of understanding with the Afghan Refugee Minister, Jamaher Anwary, and the United Nations High Commissioner for Refugees in Sydney yesterday.
It enables the forced return of Afghans whose bids for asylum fail. The move is alarming security experts and refugee advocates.
Mr Bowen said it would deter Afghans considering travelling to Australia. "Never, all through the Howard years, never before today, has there been an involuntary return from Australia to Afghanistan," he said.
"To dissuade people from risking their lives by joining people-smuggling ventures, it is important that Afghans found not to be owed protection by Australia are returned to Afghanistan."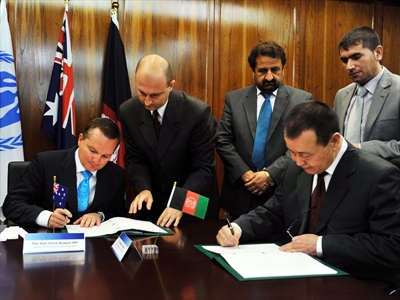 About 2600 Afghans are in Australia's detention centres. Of those, 49 must win court appeals to avoid imminent deportation.
The opposition was sceptical about the agreement, saying it was only as good as the government's will to enforce it. "The minister is unable to say when anyone is going to be returned," said its immigration spokesman, Scott Morrison. "It's not clear to me the government has the resolve to implement this."
In three years, only three asylum seekers have been returned to Afghanistan – all last year after volunteering to go. In 2008 and 2009, 126 people were returned to their countries of origin.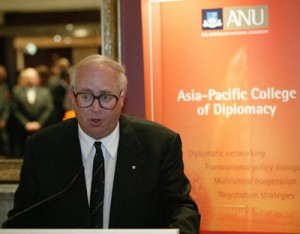 The director of the Asia Pacific College of Diplomacy at the Australian National University, William Maley, warned that ethnic Hazaras, in particular, should not be deported without extreme caution. "The security situation in Afghanistan is extremely unsettling," he said.
He cast doubt on the security expertise of Australian officials making refugee assessments.
The decapitation of 11 Hazaras in Oruzgan province in June contradicted a cable from the Kabul embassy proclaiming a "golden age" for Hazaras, he said.
The Refugee Council of Australia was concerned by the lack of safeguards the memorandum provided for returned asylum seekers. "In Afghanistan, people are not so much under threat from actions by government but the actions of people who the government cannot, or chooses not to, control," said the chief executive, Paul Power.
The Australian government has promised money to help Afghanistan improve its passport system and accommodation for returned asylum seekers. The UN has agreed to ad hoc monitoring.
Source: http://m.smh.com.au